Announcement
A word from our founders
Data Observability that Drives Action
Detect and resolve data incidents faster using a tail -f for your real-time data. Streamdal is a data observability graph and rule-based management tool that helps you take action.
Star us on GitHub
Built with experience from
Features
You get dynamic data observability
Visualization
Real-time Data Views with Data Graph Visualization
Experience the power of a dynamic, bird's-eye view of your producers and consumers as they scale up and down in real-time.
Say goodbye to static solutions that limit the perspective of your data systems, and say hello to a world of insights and analysis that's updated in real time.
Try it out!
Watch the flow of data through your system come to life with real-time metrics, providing a live visualization of both your
Consumers
and
Producers
Take it for a spin!
Dive in and experience first-hand what Streamdal can do for you.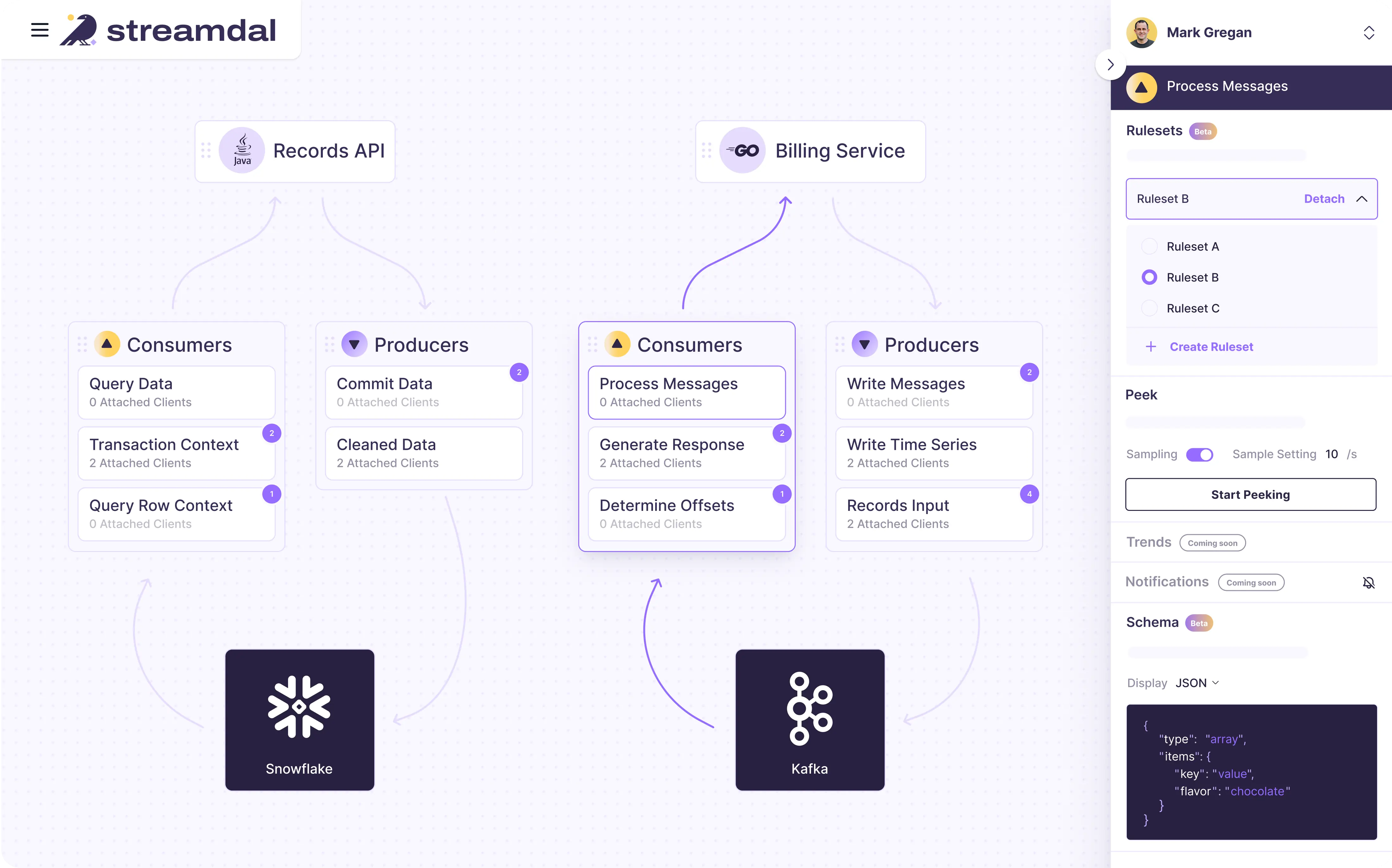 Monitoring
Data monitoring and insights on
the critical path
Monitor data and get insights on producers and consumers from the Data Graph in a single click.
Gain an unmatched understanding of the status of services, and any data anomalies or throughput irregularities with observability into the critical path of real-time data.
Reduce time spent or completely replace
slower
monitoring tools based around
discovering issues
with data at rest.
Tail
Leverage the Power of Tailing Real-time Data
We built a tail -f for data traveling through producers and consumers. Peek offers both a one-click interactive platform or CLI to seamlessly view real-time data in a user-friendly, JSON-like format.
Embrace the future of data discovery and gain instant access to your real-time data. Rapidly identify root-cause issues or audit data compliance fidelity by viewing the actual data in motion.
Interactive Platform
Command-Line Interface
Schemas
Schema Intelligence,
Maximized
Re-writing or gluing together schema tooling is for the birds. Propel your feature development with upstream schema intelligence and break free from manually policing schemas!
Streamdal will automatically interpret and decode schemas while streamlining validation, and adding a turnkey schema registry for every producer and consumer.
community
Let's build together!
Join the conversation, share your ideas, and collaborate with a diverse and passionate community.
Join us on discord
Coming Soon
Rule-sets for real-time action
Avoid the expensive data processing ping-pong and add data validation and integrity within your data graph. Streamdal is a firewall for your data.
Simplified, Rule-Based Data Validation
Create or select preset rules from the data graph and reuse them limitlessly.
Instead of if/else or log parsing madness, you can effortlessly validate and maintain data consistency as the data is produced.
Data Content Enforcement
Easily ensure data is always in expected formats and get alerted on potential quality violations or anomalies.
Quarantine bad data in real-time for repair so that it never impacts production or critical environments.
Automate PII Data Protection
Enforce geographical boundaries or block sensitive data from reaching unauthorized locations.
With Streamdal, you can use rules to quarantine PII/PHI from data in flight.
Integrations
SDKs for your apps and data sources
Connect swiftly to Streamdal for real-time observability, upstream data validation, and streamlined data management.
Want to request a new integration? Let us know!
Join us on Discord